Arriving at the hospital can be a bewildering time that both the patient and their family will experience with some anguish. However, don't worry because you will get to know your therapeutic team over the first few days and we will begin to assess your needs and interventions to get started.
Upon arrival, we will give you a welcome dossier where you will find all the information you need about your stay at the Institut Guttmann, with information on how the centre operates, house rules, and services available, as well as other interesting information about the rehabilitation process. The staff are always available to answer any questions and help you.
During the first 24 hours, your doctor will visit you to make an initial assessment of your condition. You will meet your nurse, who will always be responsible for your care and well-being. You will receive your rehabilitation plan and we will carry out all the complementary tests necessary for this comprehensive assessment. The rest of the neurorehabilitation team will visit you during the first week.
The role of family members
At the Institut Guttmann, family members and/or caregivers play a fundamental role in the patient's rehabilitation. Therefore, it is highly recommended that they are present from the very beginning, given that one of the functions of the nursing staff is to offer them information and to provide them with knowledge and techniques to help the patient to be as independent as possible.
The hospital's Neuropsychology Area enables family members to meet and participate weekly in interactive, educational and informative work groups.
Imatge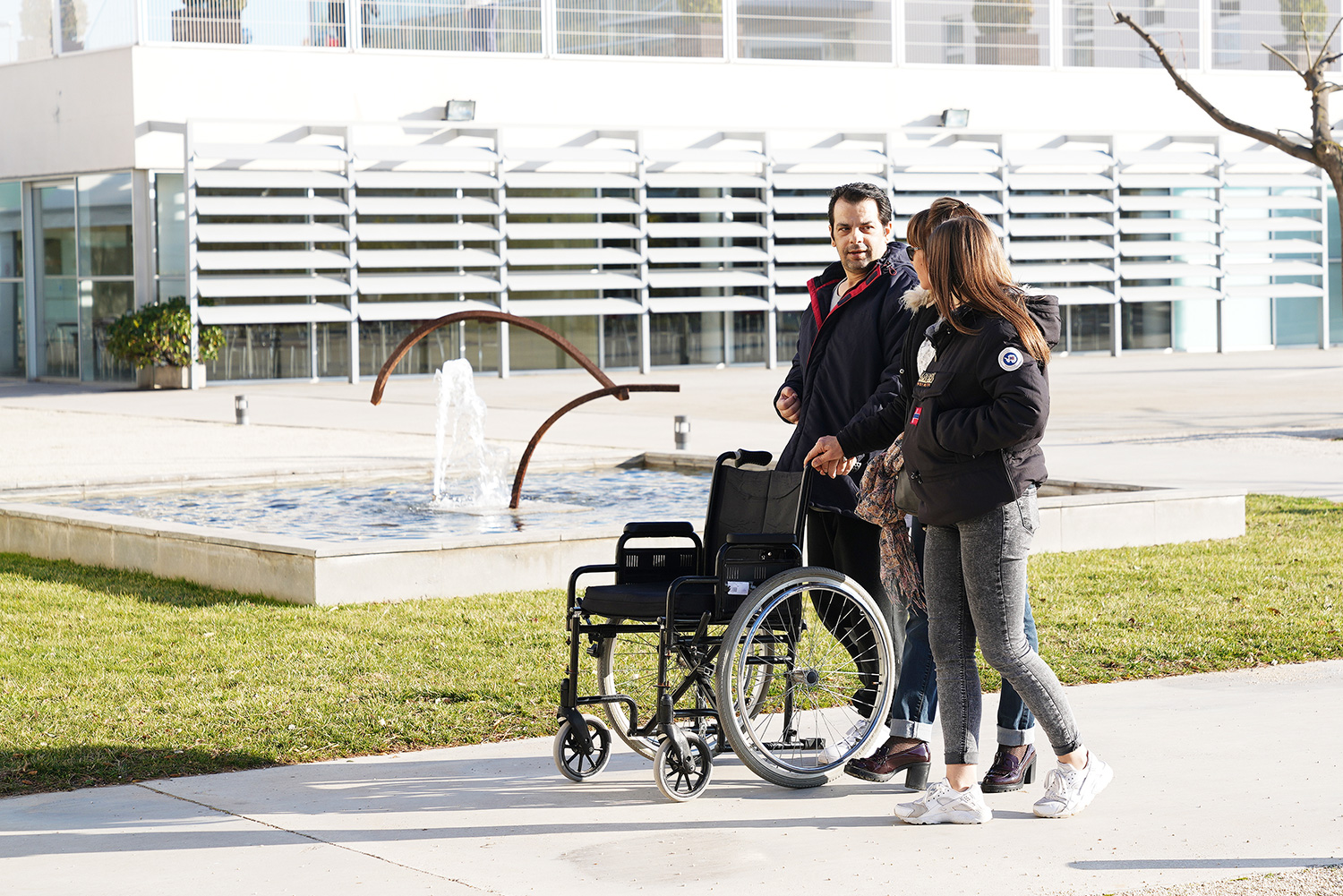 Admissions and Customer Service Area
The Admissions and Customer Service Area is responsible for managing access to the Institut Guttmann, as well as welcoming and informing patients and carrying out any administrative procedures related to admission, transfers, appointments, outpatient rehabilitation, management of hospital discharges, management of orthotics and technical aids, and medical transport, among others.
To access any of the services or benefits provided by the hospital, please go to the Admissions Area.
During your stay in the hospital, you will have a wardrobe where you can store your clothes and any personal items you may need. Please bring all your own hygiene items with you: bath soap, cologne, deodorant, toothbrush, toothpaste, comb, shaving utensils, etc.
Patients at the Institut Guttmann do not wear the characteristic "hospital pyjamas". This is part of the rehabilitation process, where the patient is not a sick person but someone who actively participates and is fully involved in their rehabilitation and in carrying out activities of daily living.
Therefore, we recommend you bring the most comfortable clothes possible, such as tracksuits or similar, cotton underwear, jumpers, sports shoes (1 or 2 sizes larger than usual and preferably with Velcro), scarves, etc. Please mark items with your name and surname(s) so they can be identified if lost.
Your friends and relatives should be responsible for washing your personal clothing. The hospital has a laundry service open from 9 am to 9 pm.
If you are an outpatient, there are lockers with a key in the Functional Rehabilitation Area where you can store your clothes and any personal items. It is advisable to bring a complete change of clothes.
Outpatient Rehabilitation
If you are starting treatment on an outpatient basis, there is some new information that it will be important for you to know:
On the day treatment begins, we will personally inform you of the days and times assigned to you, as well as the team of professionals who will be attending you.
You will have a locker in the Functional Rehabilitation Area where you can leave your personal belongings. We recommend that you always have a large towel and a complete change of clothes (T-shirt, trousers, underwear, etc.) in case it is necessary.
If required, you should bring spare incontinence material (bags, incontinence pants, etc.).
Remember to always wear suitable and comfortable sports clothing and footwear.
If you need to take any medication during the rehabilitation timetable, you must bring it from home and inform the person in charge.
Lunch is included in your programme. If you have any allergies or follow a special diet you will need to notify us. 
Imatge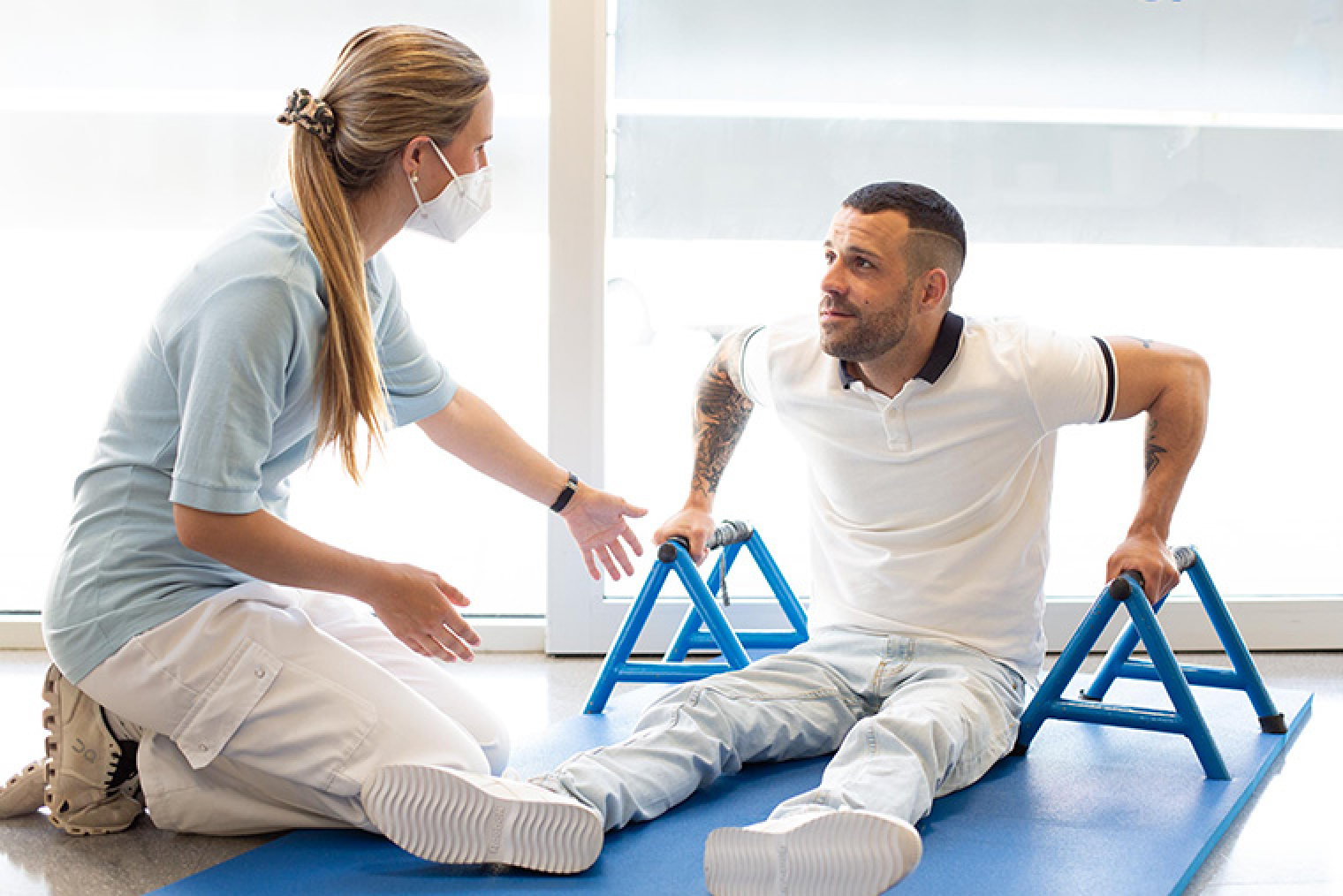 Communication with the team:
During the first few days we will provide you with your rehabilitation programme.
If you arrive later than the scheduled time, you must notify the Rehabilitation Area before 11 am (934 977 700 ext. 2146).
If you cannot attend rehabilitation, please notify us the day before or the same day in the morning, before 11 am (934 977 700 ext. 2146).
On a monthly basis, you will be summoned by your doctor in charge to evaluate your progress and assess your expected neurorehabilitation goals, as well as the date of discharge when appropriate.
We remind you that during your treatment you may be required by different professionals of the therapeutic team to assess, inform, carry out tests, etc.
Suggestions
At any time you can send us your suggestions, proposals for improvement, thanks or complaints by email canalcodietic@guttmann.com or in person in the admissions lobby.