Getting ready for admission to the Institut Guttmann
Once we have received your application, the International Patient Area will get in touch with you. We will request all the information we need for our medical team to assess your case clinically and offer you a specialised and personalised therapeutic programme, along with a financial quote and payment conditions.
If necessary, we will also provide you with all the resources and information so that you can manage the necessary procedures for the transfer yourself: visa, travel, interpreters (English, Russian and Spanish), among others.
We know that your arrival at the hospital is a big moment for you and your family. For this reason, we want you to feel calm and comfortable with us. The first days we'll get to know each other and assess your needs and the interventions to be implemented.
First of all, we supervise your journey to the hospital and take an ambulance or adapted vehicle to your arrival point.
Once the administrative procedures with the Admissions Area have been completed, we accompany you to your room and the nursing staff will inform you about the timetable, house rules and other information you need to know. The nursing staff are always attentive to your care and well-being. 
You will have been assigned an interdisciplinary therapeutic team that will be in charge of your treatment under the direction of your doctor, whom you will meet during the first 24 hours. We make a comprehensive assessment of your condition to make any adjustments to the initial rehabilitation plan, with a specific plan of 3-5 daily rehabilitation sessions adapted to your physical and/or cognitive needs. You will meet the rest of the rehabilitation team during the first week.
Our professionals will guide and advise you and your family members and/or companions at all times in anything you need, and will solve any doubts that may arise.
Imatge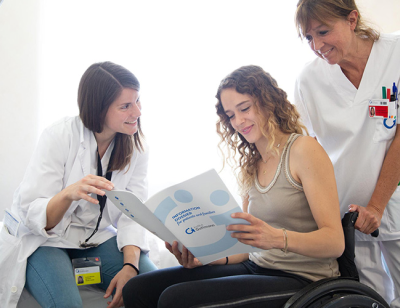 Imatge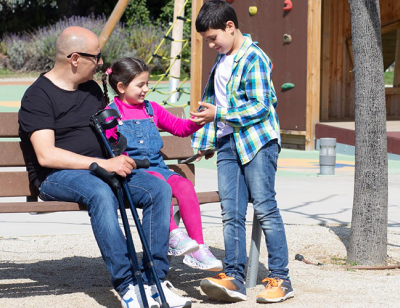 Follow-up with your doctor
Before discharge from the hospital, we will begin to prepare for your return home alongside your family and the therapeutic team.
The doctor in charge will inform you about the therapeutic plan that you must follow when you arrive home and other recommendations on maintaining your health, preventing complications, technical aids and adaptations, among others. You will be given a report with an explanation of your pathology and evolution, and any electronic prescriptions needed for your medication. 
If you require an intermediate step before returning home, you can empower yourself at our Guttmann Barcelona Life apartments for independent living, where you can also continue your training and improved functionality at our Brain Health and Neurorehabilitation Institute, located in the same building, Guttmann Barcelona. 
If necessary, the International Patient Area will help you manage your return home.
Imatge