The GUTMANN BARCELONA Advanced Prosthetics and Neurorehabilitation Clinic, is a service of the Guttmann Barcelona neuroclinic, Institute of Cerebral Health and Neurorehabilitation, which offers a prosthetic programme and comprehensive support to the person throughout the prosthetic process, from the moment the decision is made to the final adaptation to a prosthesis, including preparation, the provisional prosthesis, pre/post rehabilitation, fitting of the definitive prosthesis and follow-up of possible complications.
It also offers something equally important, which is psychological support for the person and the people around them throughout their adaptation to the prosthesis. We provide all the necessary tools to achieve optimal adaptation to everything that living with a prosthesis entails.
Why have we created the advanced prosthetics
and neurorehabilitation clinic?
Amputations affect both the physical condition of the person and their psychological state, that is, they affect their general health, lifestyle and independence. This is a process of physical and mental adaptation in which various factors relating to both the person and the people around them are involved. The most common causes of amputation are vascular, followed by trauma and tumours.
There is a growing awareness of the social integration of the amputee or person with a prosthesis, especially in younger people who need to recover their lifestyle in the best possible way by practising sports, outdoor activities, professional development, etc.
Only 30% of amputee patients know how to use their prosthesis correctly, for this reason it is necessary not just to have a good therapeutic indication and fitting of the most appropriate device for each person, but also the entire process of monitoring and pre/post rehabilitation. This will help the person to get the most out of the prosthesis with the consequent improvement of personal, social, and work relationships, in short, of their quality of life.
We are aware that there is a wide range of prostheses in a complex and sophisticated market, and in which it is difficult to decide upon the most appropriate option for each person. For this reason, we offer a pioneering, innovative and unique service that includes a comprehensive approach and treatment for the person who needs prosthetics to live their daily life.
An expert team
In the Advanced Prosthetics and Neurorehabilitation Clinic, you will be attended by a multidisciplinary team, made up of experts in prosthetics and neurorehabilitation who work in a coordinated manner and who develop an intervention plan adapted to the needs of the person.
Orthopedic Technician
Physiotherapist
Occupational Therapist
Clinical Psychologist
Rehabilitation Physician
This team benefits from the experience, knowledge and specialization of the professionals of the Institut Guttmann, an international centre of reference with more than 55 years of experience in Neurorehabilitation, and of Grau Soler, the main centre for intelligent Neuro-Orthotics in Spain for more than 80 years.
This allows us to offer a service that stands out from the crowd, with facilities tailored to the needs of the person and specifically adapted to offer the best comprehensive prosthetic treatment, both for the lower and upper limbs, and with the latest robotic technologies.
Imatge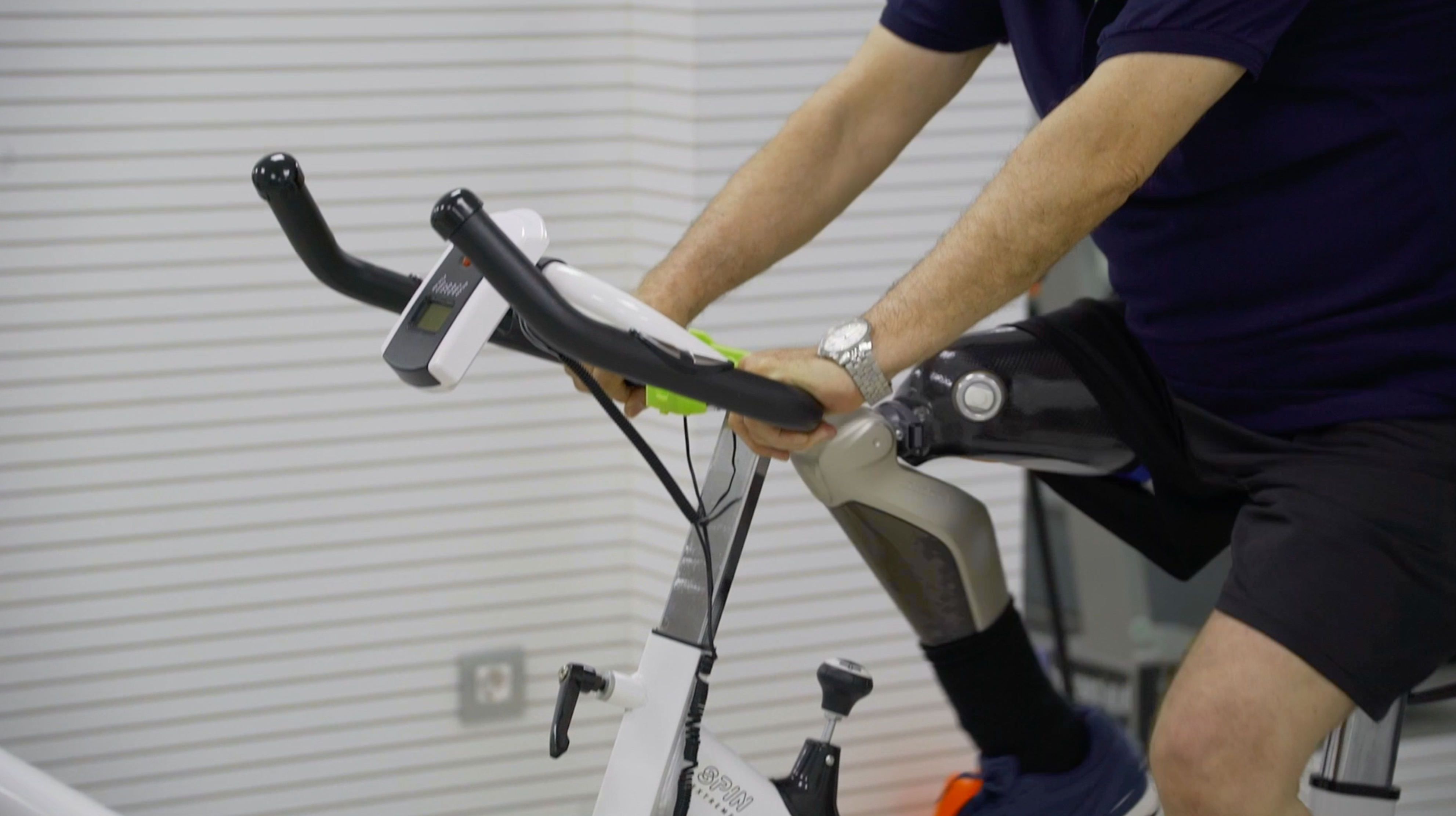 Rehabilitation, reeducation and adaptation services of the Advanced Prosthetics and Neurorehabilitation Clinic
1. Comprehensive care by a multidisciplinary team
The person will have the support of a care team made up of a rehabilitation doctor, a physiotherapist, an occupational therapist, a psychologist and an orthopedic technician at all times who will ensure that the entire process of prosthetic fitting and subsequent rehabilitation is satisfactory for both the patient and their family.
2. Psychological counseling
Emotional support is essential for proper adaptation to the new situation involved with living with a prosthesis. Our support also includes the family environment.
3. Physiotherapy and Occupational Therapy
The team of physiotherapists and occupational therapists will be in charge of teaching the reeducation of the amputated limb in carrying out activities of daily living, and will encourage the correction of postural habits (balance, physical condition, gait training, etc.) and practising sports.
4. Pain management
Most amputee patients suffer from neuropathic pain that interferes with their quality of life. At Guttmann Barcelona we have a Pain Clinic that offers pharmacological treatment, psychological counseling and non-invasive stimulation techniques that help process pain and increase the positive effects of other complementary therapies.
5. Complementary treatments
In addition, we offer other complementary treatments for added complications that may arise from fitting a prosthesis, such as ultrasound-guided injections, Non-Invasive Brain Stimulation to treat pain or the treatment of hyperhidrosis with botulinum toxin.
Imatge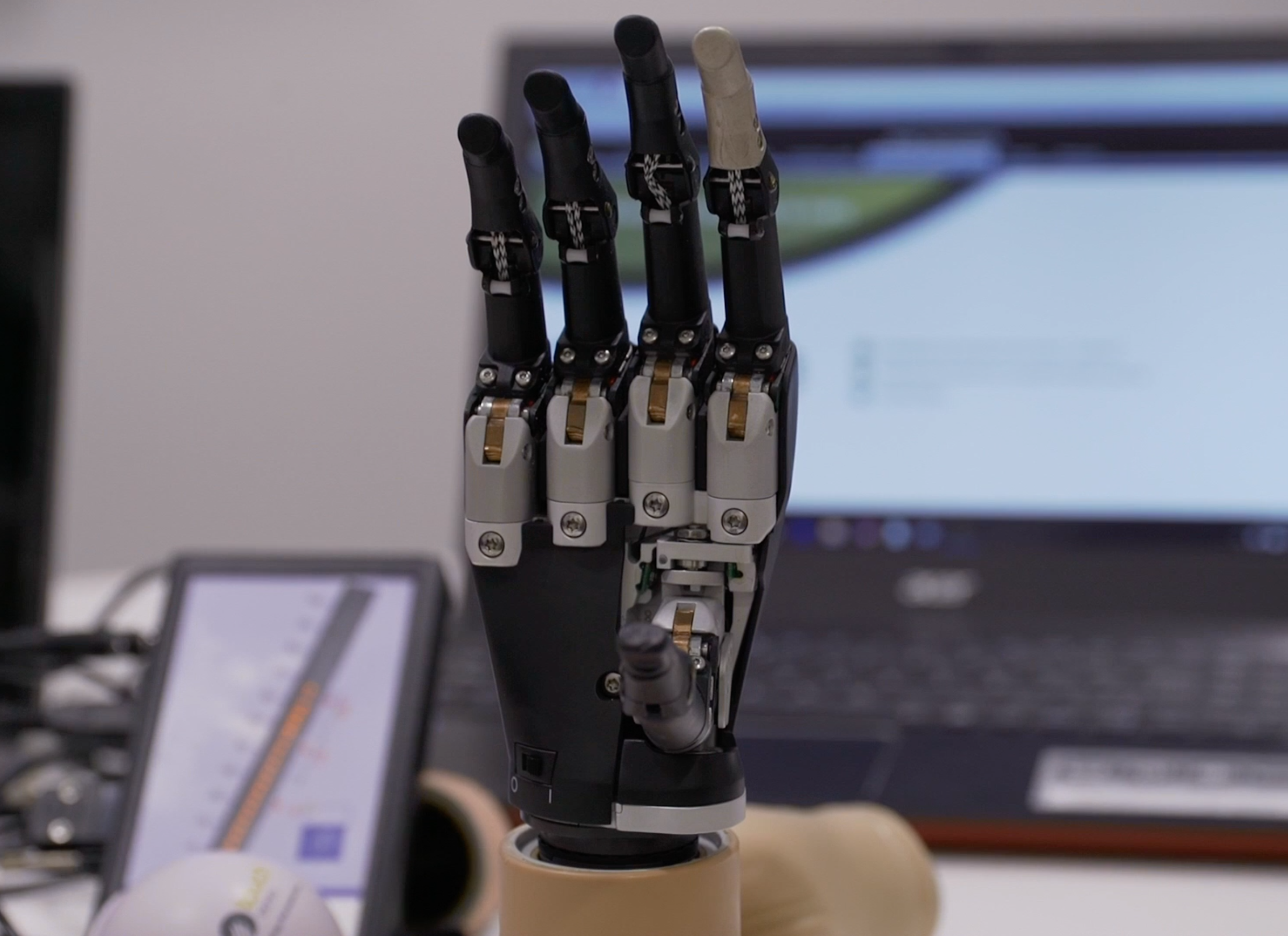 Who can benefit from advanced prosthesis and neurorehabilitation treatments?
1 - People pending amputation
Initial consultation to assess the level of the amputation.
Advice on types of prostheses and treatments.
---
2 - Recently amputated people
Wound healing and stump treatment.
Compression therapy.
Rehabilitation prior to prosthetics.
Provisional prosthetics.
Rehabilitation after provisional prosthetics.
Definitive prosthetics.
Rehabilitation, readaptation and training with the definitive prosthesis.
---
3 - People with functional prostheses
Change of prosthesis.
Rehabilitation through postural education and readaptation.
---
4 - People with aesthetic prostheses
---
5 - Pediatric patient
---
A clinic with a comprehensive care model
We accompany you throughout the selection, adaptation and neurorehabilitation process.
Imatge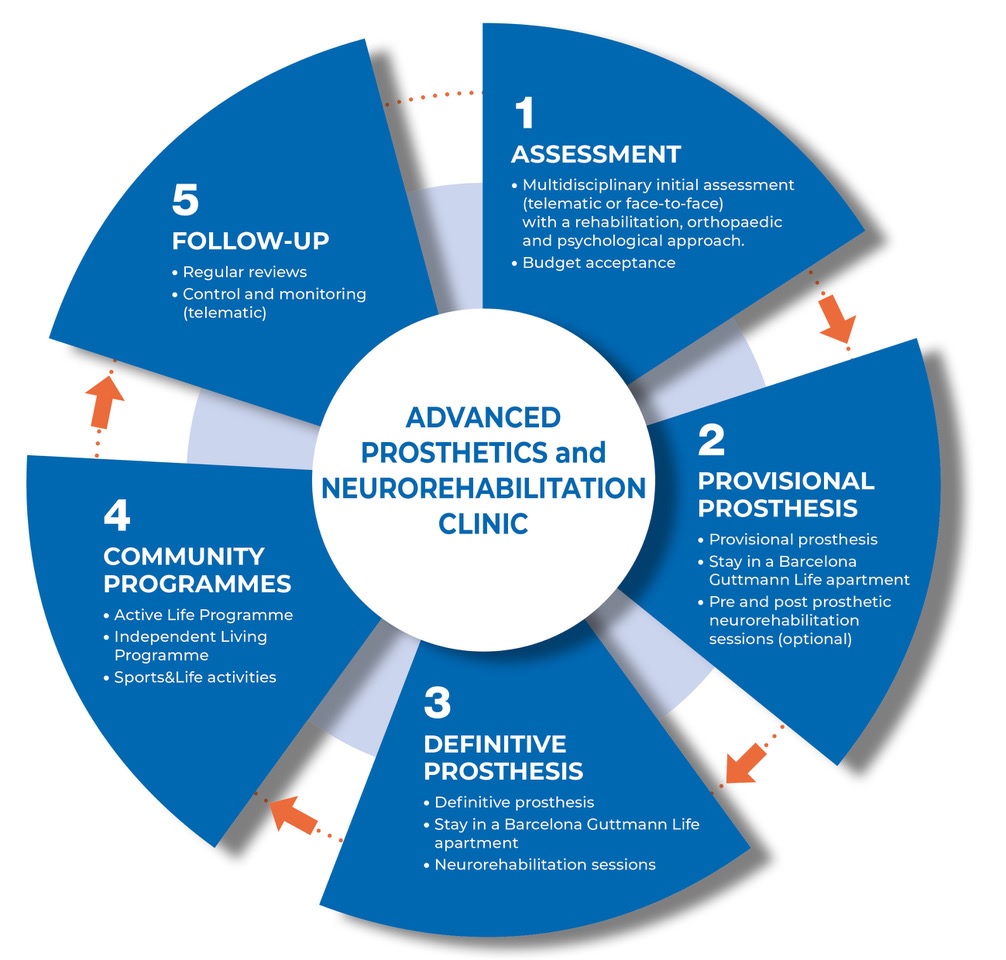 A unique service with high added value
The Advanced Prosthetic and Neurorehabilitation Clinic is in the Guttmann Barcelona building, located in the centre of Barcelona, ​​offering a series of complementary services that will help make everything easier for you:
For more information, please complete the form: